Our society is accustomed to discriminating against women. Although society is not governed by a single person's point of view, rather it's the manifestation of the holistic view of a group of people. Once it was utterly unthinkable that Girls or women would play football. Considering gender, our guardians or the social system usually give guns, cars as toys to boys, and cooking utensil as toys in case of girls. Actually we are used to seeing it as custom. But have we ever asked the question, why a girl, boys can't play the same games? Do the girls not have the physical ability or any other problem?
We don't want to explore the reason behind this, because we are used to seeing it. Seemingly, we accustomed to confining women in limited boundaries. In comparison to boys, a full-fledged positive view towards girls has yet to be created in our society. In fact, from an early age, girls begin playing sports in which the use of physical strength is less. As a consequence of unfamiliarity with the physical and muscular strength needed for these games, they begin to feel them weak.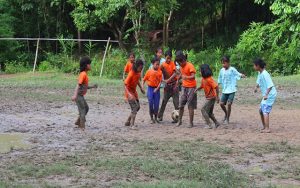 Need to ensure equal participation of girls and women in sports!

Recently, on the occasion of International Youth Day, a friendly football match was held among girls of the girls club at Chimbuk Junior High School ground in Bandarban by an initiative of the Our Lives, Our Health, Our Futures Programme, by the leading implementing Org Ananya Kallayan Sangathon(AKS) supported by BNPS, funded by the European Union. Each team had 10 players. On the scheduled match, the blue team defeated the Orange team by 1-0 goal. Sadar Upazila Youth Development Officer Nu Prue Ching Marma was present as the chief guest in the event. At the end of the game, the invited guests have distributed prizes among the winners.
It is commonly known that sports play a pivotal role in the development of mind and body, yet the social attitude towards the participation of adolescent girls or women in certain sports has not changed yet. Those girls have made our face shine in football games at home and abroad are largely residents of Kalsindur village in Dhobaura Upazila of Mymensingh, Bangladesh. Thanks to the efforts of the teacher there, the village school has become a foundation for women's footballers. Kalsindur is now a well-known name in Bangladesh. Most of the girls in Bangladesh's under-16 football team are students of Kalsindur School. Being champion of Bangladesh national school football, Kalsindur School has caught everyone's attention. After their eye-catching success in national and international level football, the school footballers have almost gained star fame. The success of the Bangladesh youth football team started in a village called Kalsindur near Garo Hills. Minati Rani, the headmistress of the school in the village, and Mofiz Uddin, a sports teacher, lit the small pillar of this success. The village girl will play football – they make this incredible idea believable to society and people. And this is now a glaring example for the whole of Bangladesh. If the students of Kalsindur High School in Mymensingh, Bangladesh can rise from such a remote village and play football beyond the borders of the country, then why little ethnic girls of the Laimipara of Bandarban will not be able to grow up in the hilly & natural environment like girls of Kalsindur. But for this one must hold the light. Must show dreams. The messages of arousal must be spread among them.
The parents of these adolescent footballers, who are playing football in Kalsindur, don't have the capacity to provide them with the calorie-rich food that their body needs for sports. Because the calories run out due to the pervasive poverty and socially negative attitude towards women. However, the victorious journey of the girls of Kalsindur did not halt. Determination does not want to accept any defeat; the success of these girls in the village of Kalsindur is the best proof of that. This is an inspiring story for all the unprivileged girls scattered all over Bangladesh. Adolescent girls from Laimipara in Bandarban also have the potential to grow up, and everyone involved must play a positive role in creating that supportive environment. And maybe these adolescent girls will bring the expected success and fame for Bandarban and Bangladesh someday.
About the writer- Sumit Banik

 

Sumit Banik is a public health activist with experience in different significant health programs and research initiatives as a public health worker in Bangladesh. He has completed his post-graduation degree in public health. Sumit is passionate about working for marginalized and unprivileged community people, developing their health outcomes through a sustainable approach. Currently, he's working with Bangladesh Nari Progati Sangha (BNPS) as a Master Trainer in 'Our Lives, Our Health, Our Futures' Programme at Bandarban Hill District in Bangladesh. He has already published more than 200 articles on health, education, social development and degradation in the reputed online media and Bengali dailies besides his articles have been published in various publications of international and national development organizations.

Source: Women Chapter by www.womenchapterenglish.com